Our Products
Your Perfect partner for Fruits Puree, fresh Fruits, vegetables and herbs with Global GAP with FSA, Rainforest Alliance, , Organic standards.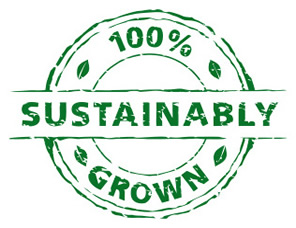 "Nava decisive action and committed to supply all conventional products with Global GAP+FSA certified to promote and meet the Global Sustainable goals.
1st Company in India, who grow and produce themselves with 100% sustainable products at affordable price with best quality."
Welcome to NAVA Quality Foods
NAVA CREATING NEW POSSIBILITIES TO ENHANCE AND SUSTAIN THE WORLD'S FOOD, NATURAL AND SOCIAL ENVIRONMENTS.
"Everything Happens at One Point (Seed to Product)"

We are the group of small Farmers, We are the Producers, We are the trusted Supplier to Global market, Partnering more powerfully with Top customers and Retailers in Europe, UK.

Our Product journey is simpler, start at Origination as we, Processing as we, Marketing as we and customer as you, there is no role of middle man in our supply chain, which will guarantee you the best quality, Traceability and an affordable price.


Read More
KEY FACTS OF NAVA
"Our first priority is Food Safety, Environment and Transparency."
"Nava's twin goals of protecting our planet's ecosystem and meeting the human need for food are in well balancing act."

Sustainability 100% 1st Company in India - Supplying 100% Sustainable sourced Products.

Happy Customers 100% Happy Customers, exceeding expectations, quality since many years.

Happy Farmers100% Happy small farmers. NAVA increased their income by 30%. Growers company.
Premium Quality100% Best Premium quality delivery with cost effective leads to rapid growth.

Transparency100% Traceable from farm to end product.

Health100% Natural & plant based food products that enhance energy and immunity.
Customers Loyalty20 Nava has customers in more than 20 countries, grown rapidly to Top 5.

Working With16 Working with German retailers, Europe & UK Bottlers, category Managers. Proven experience.

Product Mix27 Twenty Seven products from Fruits & Vegetables Puree, IQF with Rainforest, Global GAP with FSA, Organic, certifications.

Food Safety100% Everything happens at one point from seed to end product. Facilities compliances with SEDEX, BRC, SGF, ISO22000, FDA, HALAL, KOSHER.

Social100% Creating new possibilities to create, enhance & sustain farming families.
Innovation100% Innovative sustainable solutions  offerings by updating regularly
The Perfect Food Ingredient Partner
The Perfect Food Ingredient Partner for your business as we handle from seed to finish product.
1. Farms Certified with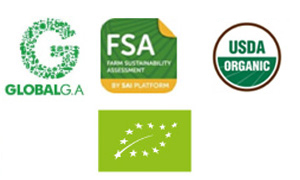 We grow the fresh produce within our co-operative farmers society from 7000 farmers farms, under our technical team complete control, which ensure the Food Safety, Sustainability and Traceability.
2. Top reputed Customers -
Fresh Food Industry
Perfectly handling the fresh produce, since many years by our sister company MGE Farms, exponentially grown as top 5 exporter to Europe, happy customer retention with quality delivery by exceeding their expectations is our key success, which leads to volume increase by themselves in every season.
3. Top reputed Customers -
Food Processing Industry
Perfectly producing the Fruit Puree, Frozen Fruits & Frozen Vegetables since many years, exponentially grown as one of the leading exporter to Europe, happy customer retention with quality delivery by exceeding their expectations is our key success.
ABOVE 1,2,3 & KEY FACTS PROVES, NAVA IS THE PERFECT CHOICE FOR YOUR BUSINESS.
CIRCULAR ECONOMY IN BUSINESS
"Thinking more sustainably towards circular economy,
For Living Beyond Earth's Capacity"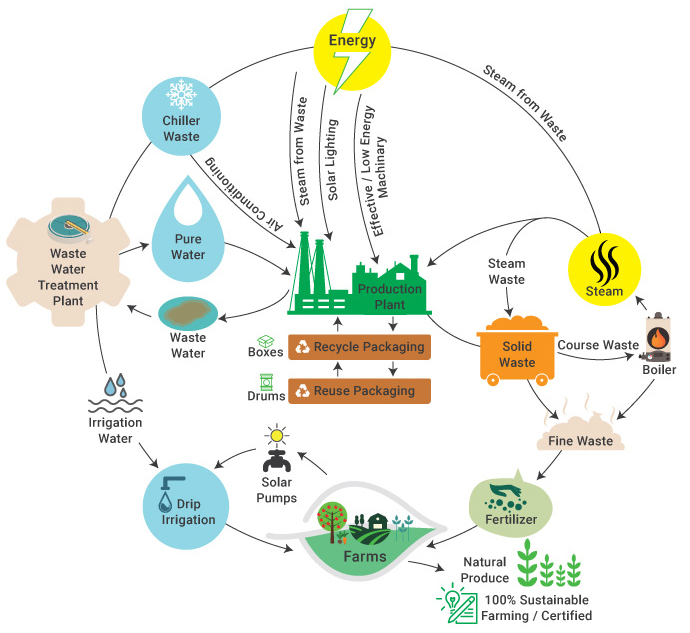 "A collaborative model towards sustainable business for delivering products that enhance and sustain the world's food, natural and social environments. "
Standards & Certification